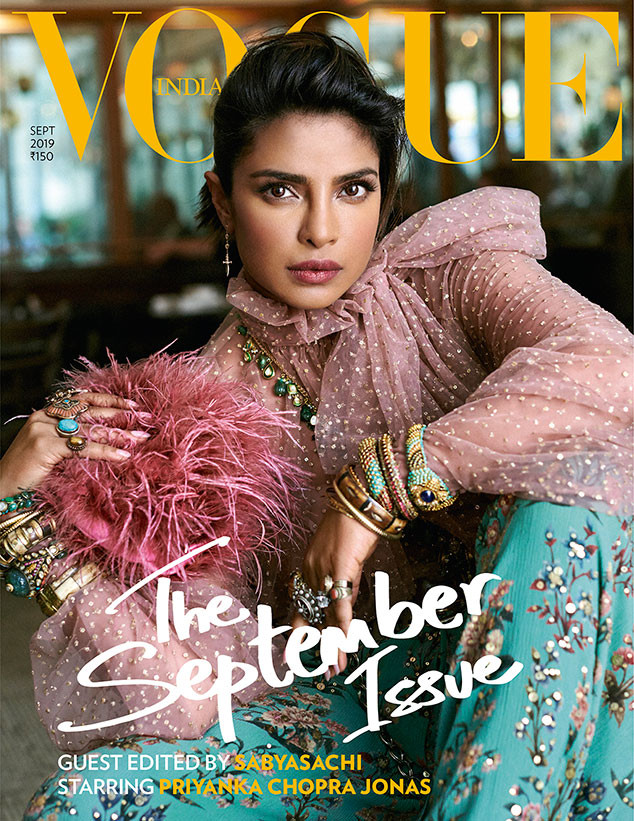 Marcin Kempski for Vogue
Priyanka Chopra is planning ahead for the "Year 3000."
Okay, maybe not that far ahead. But, the star is looking forward to what the future holds for her and husband Nick Jonas. That is, after they finish with the Jonas Brothers' tour and she wraps up press for her new movie The Sky Is Pink. 
"Buying a home and having a baby are on my to-do list," the 37-year-old shares with Vogue India as the cover star for the much-anticipated September issue. Priyanka adds that she and Nick see themselves setting up shop in the sunny city of Los Angeles, Calif. where the warm weather and ocean breeze evokes a sense of her Mumbai home. 
Envisioning their permanent home must be comforting for the actress and singer considering they've practically lived all across the globe in the past year. They're currently all over the place as the Jo Bros. tour rolls on, but the newlyweds of almost a year spent much of the summer learning the art of pasta-making in Italy. And before that, they were hunkered down in the south of France for Joe Jonas and Sophie Turner's wedding, which was just as beautiful as their nuptials in India. 
Regardless of location, Priyanka says that she would not change a thing about their fast-paced and glamorous life. "For me home is wherever I'm happy, as long as I have the people I love around me," she shares. 
The importance of family is surely a lesson that will be passed on to Nick and Priyanka's future kids. Nick himself has said that he is excited for the days when he can share all the valuable lessons he's learned over the years. He stated, "I definitely want to be a father someday… And I have seen a lot of life at an early age and I hope to be able to share that with a kid of my own someday."
When it comes to their timeline, however, it doesn't seem like there is any rush to welcome baby no. 1. "I think, you know, whenever God wants it to happen," Priyanka previously told E! News regarding their plans. 
Vogue India's September 2019 issue is out on newsstands soon.
Don't miss E! News every weeknight at 7, only on E!
(This story has not been edited by usimmigrationupdate.com staff and is eonline.com from a RSS feed)