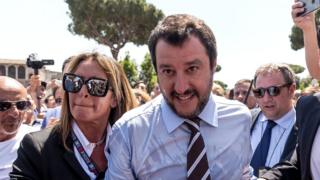 Italy's new interior minister, Matteo Salvini, has said on a visit to Sicily that the island must stop being "the refugee camp of Europe".
The leader of the far-right League party said his government's plans on migrants were not "hard line… but common sense".
He said that increasing deportations and limiting new arrivals would end up saving lives.
However, critics have cast doubt on the feasibility of Mr Salvini's plans.
Italy is the main destination for migrants crossing from North Africa to Europe, although numbers have fallen in recent months.
The country's new populist government involving the anti-establishment Five Star Movement (M5S) and the League was sworn in last week, ending months of uncertainty for the EU's fourth-biggest economy.
The League is strongly anti-immigration and a joint plan agreed with the M5S in forming the new government reflects that stance.
Speaking on Sunday in the Sicilian port of Catania, Mr Salvini said: "Enough of Sicily being the refugee camp of Europe. I will not stand by and do nothing while there are landings after landings. We need deportation centres."
He also visited the port of Pozzallo, where a boat carrying more than 150 migrants from sub-Saharan Africa landed on Friday after being rescued by a humanitarian group.
At a rally in northern Italy on Saturday, Mr Salvini had said "the good times" for illegal immigrants were over, adding: "Get ready to pack your bags."
The joint plan agreed by the League and M5S demands more help from the EU on immigration issues.
The parties insist that half a million undocumented migrants in Italy must be deported "as a priority".
Such action would require the creation of "temporary stay facilities" throughout Italy for migrants earmarked for expulsion, the parties say.
The plan also calls for relocation of asylum-seekers EU-wide – a scheme already rejected by some member states.
In addition, Mr Salvini says he is considering action against organisations rescuing migrants at sea. He has previously accused them of being in cahoots with people-smugglers.
The government's critics say its plan to repatriate migrants is unworkable and risks fomenting racism and politicising a humanitarian issue.
A controversial deal between Italy's former government and authorities in Libya has led to a drop in overall arrivals since last summer.
However, Italian officials say 13,500 migrants have been registered so far this year.
A note on terminology:The BBC uses the term migrant to refer to all people on the move who have yet to complete the legal process of claiming asylum. This group includes people fleeing war-torn countries such as Syria, who are likely to be granted refugee status, as well as people who are seeking jobs and better lives, who governments are likely to rule are economic migrants.