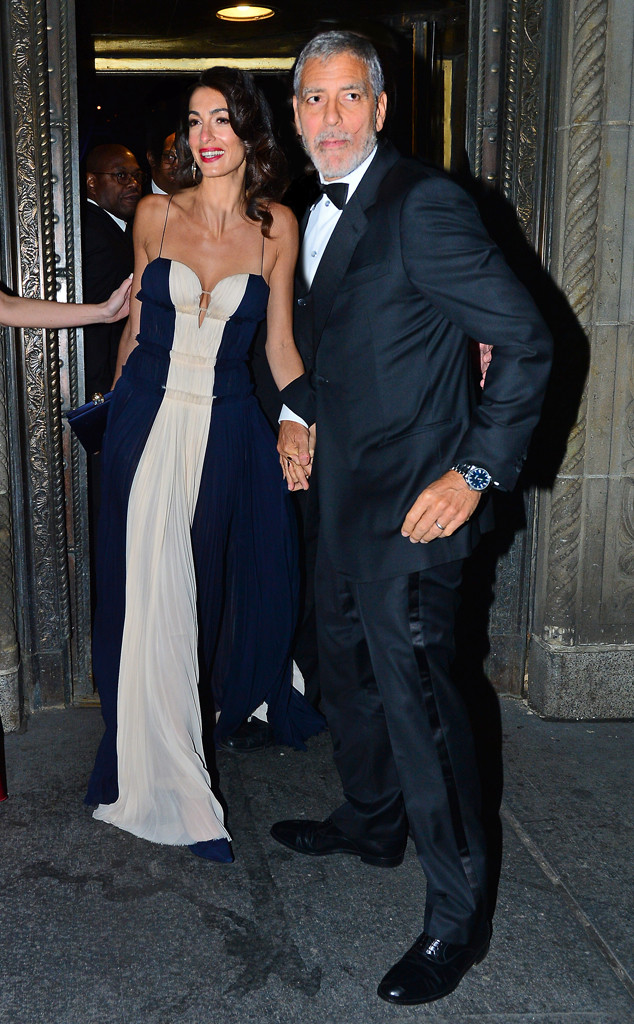 Jawad Elatab / SplashNews.com
Date night!
Amal Clooney and George Clooney have been in New York City with their 1 and 1/2-year-old twins, Ella and Alexander, over the past few weeks, E! News has learned. On Wednesday, the couple, minus the kids, attended the United Nations Correspondents Association Awards at Cipriani 42nd Street. They were jointed by George's parents. Amal, an international human rights attorney, was honored as the 2018's Global Citizen of the Year at the event.
She looked glamorous in a navy and ivory silk color block gown. George wore a black tux.
"Amal was honored to receive such an acknowledgement," an eyewitness told E! News. "George couldn't have been more proud. He was leading Amal around by the hand and beaming. He complemented her over and over and was telling people how remarkable she is. George's parents also had a great time and seemed proud of Amal. They have a great relationship and a lot of respect for her. She is completely different from the previous women George had dated and they have a lot to talk about." 
The eyewitness said that on Thursday morning, Amal was spotted elsewhere in the city, carrying the twins, while George was at a meeting.
"She had one twin on each hip and they each held on to a teddy bear," the source said. "Alexander is still looking exactly like George while Ella looks more like Amal. He is bigger than she is, but they do look alike and both have big brown eyes."
"Amal had packed snacks for them and bundled them up for a cold day out in New York," the eyewitness continued. "She didn't have a nanny with her and seemed to be at ease handling both twins. She had her hands full, but a big smile on her face. The twins were very curious and were looking around at everything."
(This story has not been edited by usimmigrationupdate.com staff and is eonline.com from a RSS feed)